It's been 25 years since I wrote my farewell column for
Screw
's "Naked City" listings. This back section of the paper contained some 200 capsule reviews of New York City's peep shows, porn theaters and sex establishments (virtually all defunct now). Each week opened with a report from the streets, interview from a burlesque dressing room, or editorial.

Reprinted from
Screw
, June 23, 1986
END OF AN ERROR
This week marks the 225th
Naked City
column I've written under my own byline. It is also the last.
When I first inherited this wild beast of a job, in Issue #678, March 1, 1982, I was then Senior Editor of
Screw
. I'd been editing "Tony Esperanto's"
Naked City
as part of my weekly function. Esperanto was the pen name of another Screw editor who'd done Naked City for five years. I never wanted to take over these listings, but it seemed inevitable. Custom had it, since the inception of
Screw
, that whoever handled
Naked City
would use an Italian pseudonym. That way, some mobster couldn't threaten whoever gave his massage parlor a bad review, or might figure it was written by some Guido you don't fuck with. For years,
Naked City
carried the byline "Rocco."
I was never one to believe in pseudonyms, and thus remember a few sleepless nights after I took over this column. Several dives objected to their lowered ratings, and protested through odd and varied means of communication. One obvious tactic a proprietor might take upon a lowered cock rating in
Screw
was to mail me an onslaught of letters. Every letter purported to be a regular reader of
Screw
who was outraged that his favorite club had been lowered in the ratings. Each of the 30 letters would have the same town post office mark, or be written in identical style, thereby exposing the owner's obvious ploy. Fake letters became quite easy to differentiate from authentic ones.
This column has taught me how to write like no other training ground—simply because I had to make a deadline every week, for four-and-a-half years. It was often an edgy, nervous type of writing, because you were reviewing the kind of joints that maybe the owners didn't want anyone nosing around or drawing attention to. The stripper profiles were most fun, particularly Hyapatia Lee, Candy Samples, Kelly Everts, even last week's backstage romp with Sue Nero. My "Sex in Brooklyn" series and "Sex in Queens" series, as well as anything to do with the Harmony/Melody Burlesk, stand out as peculiarities that only Al Goldstein's World's Greatest Newspaper would cover. "The Consumer's Guide to Erotic Entertainment," a lame subtitle I inherited under the
Naked City
logo, was the world's first Ralph Nader-type watchdog listing for the consumer pecker. These establishments exist, so why the hell not have a protective customer guide for them?
If I saw a horse vomit in Times Square, spent Thanksgiving at McDonald's, Christmas in the drunk tank, or imagined I saw the lights go on at the All-Live, Whirly-Girly Revue on 46th St., first time since '62—I could write about it, then see my nightmare produced in smeary newsprint the next week in this column, off my chest and onto yours. Even if only two people might read it. But if any of my loyal readership feels a tinge of regret over my departure, let me refer you to my new book, out in a week:
Tales of Times Square
, published in hardcover by Delacorte Press. It contains the meat of every secret I've learned from
Naked City
, and my 10-year association with
Screw
. It is like this very column, although "respectably" packaged so that thousands (hopefully millions) can read about Times Square throughout the world.
As for the work I've done herein, protecting
you
, the unlaid, masturbating
Screw
reader—laying my cock on the line so that yours may be safe—I'll give myself a 3 1/2 rating. The sex biz is really on the skids. But I drink a toast to all the joints and dives listed here, 'cause they're more humane than what's gonna replace 'em.
Farewell, suckers.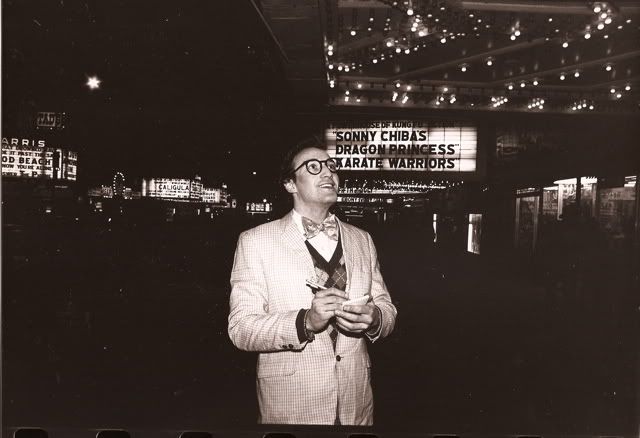 artwork by Drew Friedman
. Visit his blog.
text and photos
© 1986, 2011 Josh Alan Friedman