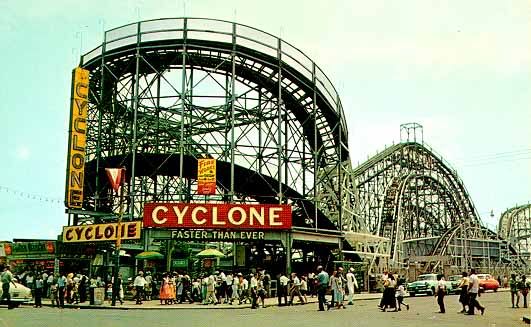 So ends this sketchy, rudimentary overview I did for a documentary filmmaker 20 years ago. But next week this space will run my unpublished
Village Voice
interview with Horace Bullard on the reconstruction of Coney Island—that never happened.

The sublime element of sleaze became more prominent through the 1950s and '60s. There was further decay as property taxes rose with the minimum wage. Mom-and-pop rides and side-street spook houses across Surf Avenue cut costs on maintenance and appearance.
Power broker Robert Moses, New York's commissioner of parks, had a spiteful dislike of Coney Island. Jones Beach on Long Island—Moses' defining parks achievement—was a pristine "passive park." No hurly burly, no cotton candy, concessionaires or gypsies. The Marine Beach Theater presented Guy Lombardo and operettas. Moses built six-lane highways, but he wouldn't repave the streets of Coney Island. The Belt Parkway, built to provide tri-state access out to Jones Beach, bypassed Coney Island with no exits or markers. This was an unforgivable insult to the old-timers on Surf Avenue.
Coney Island reached its peak attendance of 2.5 million on July 3, 1947. But as cars became a middle-class commodity, and highways led out to Long Island, attendance declined through the 1950s. Once the grand destination of steamers, buses and subways, Coney Island was not equipped for parking thousands of cars. Throughout the '50s, neighborhood demographics shifted to Black and Puerto Rican tenants, as whites fled to the suburbs. Coney's bathhouses closed. One old-timer attributed this to the development of nylon and Dacron bathing suits. Synthetic materials dried easily, people could change in their car or throw clothes over a bathing suit. Aside from changing rooms, the old bathhouses rented cotton and woolen suits.
In the late '50s, Steeplechase began to receive complaints from seminarians. Knee-length skirts blown above the waistline provoked prurient heckling. Some gals wore no panties. So the Pantomime Theater—rude clowns with electric cattle prods and paddles that whacked women's fannies—was discontinued. The horny dwarf, Little Angelo, was gone.
Coney Island withstood greater peril with each decade. Still, it created one-of-a-kind rides, never duplicated. Showmen with no formal training would dream up rides in the winter, and go for broke, gamble all they had. If one engineer said it couldn't be done, the next would build it. A half-dozen landmarks have survived most of the 20th century as a testament to this ingenuity.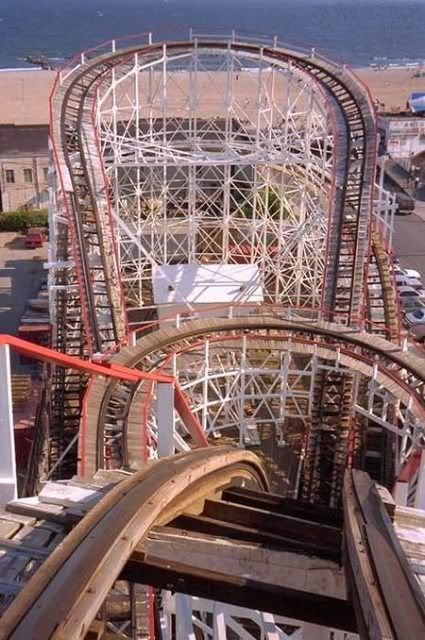 The Cyclone roller coaster was built in 1927 for over $100,000. Its first drop is 83 feet, providing a spiritual kick to the adrenal system. It originally cost 25 cents to ride. Today [in the 1980s] the brakemen appear supremely bored. But they still herd in flocks of customers, who emerge from the exit in a euphoric mood. The creaky wooden frame is beloved by millions; many aficionados still consider it the world's preeminent coaster. [The Cyclone, now $8 a ride, still thrives in the 21st Century—an isolated, but official New York City
and
National Historic Landmark.]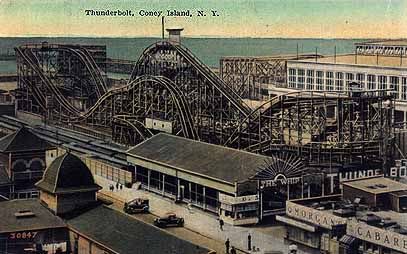 The Thunderbolt opened in 1925, with a fabulous 90-degree first drop. Its owners, the Morans, resided in a home built within the roller coaster. Inside was a perfectly normal household, the only odd effect being that the dishes rattled and the walls shook every three minutes as the 'Bolt roared overhead. Mrs. Moran, after 40 years, didn't even notice, and even visiting dinner guests [of which I was one] gradually became accustomed to it. Their backyard was like a lost-and-found, typical of any roller coaster. It was littered with watches, wigs, glasses, billfolds, false teeth, a cop's gun. One rider accidentally scattered $4,500 in fifty- and hundred-dollar bills, which the Morans recovered fully for the passenger. Featured in Woody Allen's
Annie Hall
, the Thunderbolt ceased operation when Fred Moran died in 1982.
Steeplechase did not modernize during its last decade, the 1960s. It could have inherited new rides from Palisades Amusement Park in New Jersey, which was operated by the family that started the Cyclone. Infighting amongst the Tilyou heirs prevented progress. Steeplechase closed after the 1964 season, the cause of much sadness in Brooklyn. The Tilyous sold the land to notorious Queens developer Fred Trump, Donald's father. Trump held a party celebrating the demolition of the great Victorian structure in 1966. He offered bricks to throw at the Pavilion of Fun's windows, with plans to develop luxury housing. Trump's land was never developed and remains a wasteland to this day.
The new Astroland became the predominant amusement park of Coney Island when Steeplechase closed. Converted from the Feltman restaurant property in 1962, it continued to grow until 1975. Still, the landmarks outside of Astroland took on more significance. Coney was bookended by the Cylone on one side and the Thunderbolt on the other. A third major roller coaster, the Tornado, remained in-between. The Bobsled, brought to Coney in 1940 from the New York World's Fair, was a crazed indoor coaster. Low-tech spookhouses and bumper cars rumbled over sparky electric tracks on the side streets. Also surviving was the terrifying Wonder Wheel. Built in 1920, its Ferris wheel passenger cars creak back and forth on rollers as they revolve through the sky.
Steeplechase's parachute jump also arrived from the World's Fair in 1940, and still stands like a proud skeleton. Engineers at first claimed the 250-foot tower couldn't be erected near the water. With 12 chutes on cables, the ride provided a thrilling 20-foot free fall, until the chute opened. It was entirely different from today's jumps, which run like high-speed elevators, with no free fall. Today's generic, assembly-line rides, built on the metric system, are ordered from Europe for theme parks.
Though ruins are respected in Europe for millennia, America destroys its history for quick kills. This is the domain of the real estate speculator. Project housing now festers where Luna Park and Dreamland once stood.
Riots in Brooklyn erupted during the late 1960s. Concessionaires on Surf Avenue were hung by their feet, their little carny operations looted. High-voltage cables from entire rides were yanked out during the night. Like other inner cities, Coney Island was tainted by arsons, vandalism, junkies, muggers of old people, welfare cases and syphilitic streetwalkers.
Yet the season began each year, with millions still attending. In the 1980s, Coney Island came close to a grand vision for revival: casino gambling, a la Atlantic City. Attempting to pull of this wizardly feat was Horace Bullard, owner of the Kansas Fried Chicken chain. For a decade he studied Coney's history, spent millions acquiring property, and hired architects to design a proposed $150-million nostalgic recreation of Steeplechase.
Bullard disliked soulless corporate theme parks like Six Flags, landfilled with European rides, lacking carny atmosphere and gourmet junk food. Where even the smell of cotton candy is eliminated by enclosed food stands.
Bullard encountered 35 individual landowners on Coney Island, most of whom would not work together. Like a Tower of Babel. The Tilyou estate even fought to prevent usage of the Steeplechase face. Bullard had planned a museum at the top of his park for the Brooklyn Dodgers and George C. Tilyou. "After that much opposition," he said, "we figured not to bother with a memorial. Because Tilyou was a genius doesn't mean his descendants are." In the old days, operators said if riders knew how safe rides were, they wouldn't scream. But in an age of litigation, Bullard wanted his rides suicide-proof.
Yet Coney Island could not be budged. It sits today [in the 1980s] on hallowed ground, like a Mediterranean archaeological site. The scent of giant lollipops and steamed corn still infuses the old tile walls at the Stillwell Avenue station, where four subways reach their destination. Philip's Saltwater Taffee is manufactured in the same subway shop since the 1920s, across from Nathan's. An ancient pissoir runs in the public men's room.
There is still two-and-a-half miles of beachfront. The wooden Boardwalk, two miles long, 80 feet wide, is superbly maintained. Each summer brings out Bradshaw's Circus of World Curiosities, along with airplane shows in the sky. Astroland and Dino's Wonder Wheel Park open each season. Only three classic rides are still in operation: The Cyclone, the B&B carousel and the Wonder Wheel. And there is Nathan's.
Much of Coney is carnival rubble. Abandoned sea-beaten pavilions, with burned-out neon-fossil facades. Barely visible lettering that once boasted Dancing and Entertainment. The World of Wax is deserted, crumbling, the Thunderbolt lays rotting [it was finally ordered demolished by Mayor Giuliani in 2000]. Junkyard dogs yap from fenced-in lots, the rides they protect reduced to rubble. Fred Trump once offered to raze the Parachute Drop, calling it a "piece of rust." But engineers said it was still sturdy, even through storms, and it still stands.
An odd sign bearing a familiar leering face, posted by a group called the Coney Island Hysterical Society, reads:
"Steeplechase Park. . . Come back. . . Come back. . ."

© 1990, 2010, Josh Alan Friedman