I was assigned the following piece in 1987. Then-
Village Voice
editor Martin Gottlieb, a former and future
Times
man, displayed an impenetrable air of self-importance. Whenever I was at the Voice office, Gottlieb only emerged from his lair surrounded by a tight coterie of sycophants, making the rounds like some comical taskforce. Intimidation was key, at least the way I experienced it. But at that time, the
Voice
still had some clout. It was feasible that my Horace Bullard story might have tipped the scales more in favor of getting the ball rolling for Coney Island. A political endorsement, you might say. I was tortured with aimless rewrites for months. Then the Voice killed it without explanation at the 11th hour. Gottlieb preferred to see Coney Island remain a wasteland, and Horace Bullard's long moment came and went. From Mayor Giuliani on down, it seemed the whole world shit on Bullard's impossible dream.
To this day, the stifling local politics of rebuilding Coney Island is so convoluted and poisoned with opprobrium, it's like trying to broker a peace deal in the Mid-East.
Restoring Coney Island's heyday would be like restoring the aristocratic era of 42nd Street—it would take a time machine. But Horace Bullard, owner of the Kansas Fried Chicken empire, has been working toward this seemingly unattainable mission for a decade. The job has its headaches.
In his Riverdale penthouse, overlooking the Hudson, the 48-year-old Mr. Bullard appears more like a newly retired athlete in robes than a P.T. Barnum. A great church organ sits in his living room; items of Coney Island lore are arranged across the coffee table. He has an archival sense of Coney's history:
"We're not building an amusement park just to incorporate rides. The rides are only $40-million; the park will cost $150-million. When I went to Great Adventure, I told the architect, 'This is an example of what I do not want.' We're trying to bring back this Coney Island feeling," he says, holding aloft copies of
Sodom by the Sea
and
Good Old Coney Island
, two long out-of-print books.
The soulless Great Adventure/Six Flags chain is a homogenous, corporate type of amusement park. There is nothing regional or unique about them. They're landfilled with European rides which offer quick, visceral jolts. They lack imagination, carny atmosphere and gourmet junk food—even the smell of cotton candy is eliminated by enclosed food stands.
But the Coney Island ghetto sits on hallowed ground. The remains are like a Mediterranean archeological site. An end-of-the line subway still spells out Sodom by the Sea. The scent of giant lollipops and steamed corn is infused in the tile walls. Philip's Saltwater Taffee is manufactured right in a 60-year-old subway store, across from Nathan's, where hot dogs were first popularized, and perhaps never surpassed. A 19th century pissoir still runs in the public men's room.
Bullard was raised in East Harlem, and never visited Coney Island until 1965: "I was too poor to even take a subway there. I was in my 20's the first time I went. Never saw so many people in my life. I was an oil burner repairman then and never dreamt what I'd be doing now."
Bullard didn't make it to any amusement parks or stadiums as a kid. But he never forgot that first taste of Nathan's in 1965. Four years later he returned to Coney Island when a slumlord named Hy Singer locked up the equipment and tripled the rent of a Kentucky Fried Chicken by the Boardwalk. Bullard brought in an operator to run a Kansas Fried Chicken on the location, one of his earliest franchises (he now owns 22).
Bullard's third visit to Coney was in 1978, when his saga began: "I bought the Shore Theatre building, which was abandoned and boarded up. I built a Kansas Fried on the corner. But when summer came, I saw there were no people. I remembered this area was loaded with people when I visited in the '60s. I asked Astroland, 'What the hell happened?' They said, 'The landowners here don't work together, they brought in the Blacks, they destroyed the area.' The Astroland rides did good business because they maintained their park. But the 35 other landowners did not work together. No promotion, no air shows—nothing but fighting. I said, 'Let's get them all together.'"
The carnival rubble Bullard witnessed was the same then as now [in 1987]. Abandoned seaside attractions line the village streets. Crumbling, sea-beaten pavilions, according to their burned-out, neon fossil facades, once offered "Entertainment" and "Dancing." Vaudeville shows, like the Tahiti Dancing Girls, were "hotter 'n horseradish." The World of Wax is deserted. Junkyard dogs yap from fenced-in lots, the rides they protect reduced to rubble. A chocolate factory, in a pigeon-infested stucco building, still operates by the Riegelmann Boardwalk at 22nd Street.
The most imposing ghost is the parachute drop, rusting in its beachfront lot since Steeplechase closed in 1964. Built in 1939, the parachute drop was repainted every three years to ward off the effects of salt air upon its metal. It now hasn't been painted since 1964. Engineers, who observe it standing through storms, say it is still sturdy.
Completely vanished is the huge Steeplechase Pavilion of Fun, where the "Insanitarium" contained swaying barrels, winking cartoon demons, dancing card decks and a midget blowing air blasts up ladies' skirts. Wooden horses, six wide, raced over a 3,100-foot course, where paid screamers acted as shills. In 1910, you got 25 rides for 25 cents; a few decades later, it became known as a "Nickel Empire."
Project housing went up around Luna Park and Dreamland, two of the great amusement parks of turn-of-the-century Coney Island. But Steeplechase, the third park, has been kept free from development for two decades, since closing. This was a stroke of far-sighted wisdom. Steeplechase is prodigal land, awaiting a savior's wand.
"So, in 1978," continues Horace Bullard, "we called a Chamber of Commerce meeting. I brought down an architect. I said, gentlemen, there's talk of gambling for Coney Island. What we should do is redesign this C-7 zone—the entire amusement area. If gambling is to be voted in, we'll put up
one
hotel. We'll only allow this single hotel, which will sponsor a whole new amusement park. It can bring us back Coney Island.
"Then all these people started arguing. 'Who are you, where'd you come from, you're an outsider, a stranger, how did you get that building on the corner, we were trying to buy it.' So I formed a local development corporation, with a board of directors. I tried to get the Aquarium, Nathan's, Astella Development Corporation, Father Gillespie, everyone in the community to attend. On the table I put the entire map of Coney Island. I asked all of them to go to work on this map and redesign Coney Island to what we all think it should be. Then let's go and fight for it, make it happen—rather than each one try and do our little thing, let us collectively go to Albany and say, 'Gambling is being considered, fine, we'll take one casino—Hyatt, Hilton, whoever, then we'll redevelop the rest our way."
The once great seaside resort of Coney has only one visible hotel today—the Surf Hotel. The desk madam is hesitant to provide a stranger with a $30 room. It's a welfare operation. "Mae West used to live here," she says, in broken English. "But there's nothing to tell about now. You don't want to know. Go to the library."
"The guy who owns the Surf, Hy Singer, is responsible for part of Coney Island's destruction," says Bullard. "He wanted to make the Stauch's Baths site a welfare hotel. Anything he's ever touched," Bullard says with regret, "has gone down the drain." He points to the map. "There was a roller coaster here, a bobsled there, go-carts."
Slumlord Hy Singer inherited property in the garment district, then came to Coney in the 1960s after Steeplechase closed, to buy land. Bullard is in litigation, trying to acquire some of it. "Singer's driven by money, but doesn't know how to make a deal. He entered into a contract to sell this plot for $950,000. When our project was announced, he reneged. 'I sold it too cheap, I was fooled, I was conned,' cried Singer."
Stauch's Baths, another unintentional haunted house by the sea, contains art nouveau stone carvings. Bullard feels the sight is essential when Coney returns, and must not be turned into welfare space. He may even salvage the stone carvings for future construction, to be modeled somewhat on the cardboard Venice look of the original Dreamland.
Bullard feels his 1978 proposal to the Chamber of Commerce was a great plan: "The casino would
pay
for the privilege of being exclusive. That money would have been used to transform the entire C-7 zone for an amusement park, then give the community $15 million a year, annually, to do whatever they wanted for improvements—trees, extra security, facades, shopping. We'd form an umbrella corporation—whatever square footage you own, you'd own shares proportionately. Hy Singer gets up—'Why should we give the community $15 million dollars? I
ca ca
on the community! I'm a businessman.' That's what he said. They started calling me a communist, you're talking about socialism, you're gonna give our profits to the community. I was shocked."
The local Tenants Association would not even show at Bullard's meetings. "I said, what have you got to lose? If you're against gambling, sit at the table and fight it. Anything you don't like, vote it down."
Finally, Bullard persuaded a group of tenants to visit his architect's office in Manhattan. He showed them the plans: "Tell us where this is no good, where it doesn't help or hurts you," he asked. Tenants were afraid property values would rise, rents would increase, and they'd be pushed out. Since the Urban Development Corporation owned their buildings, Bullard had a rep from the UDC present.
It turned out their mortgages were all in default. I said great. When we put this package together, we'll buy out the mortgages. We'll pump a few million into their buildings for electrical repair, then we would sell the apartments to the tenants for
a dollar each
. So now, if there's any increase in value, they'll own it. Instantly, if gambling had come to Coney Island, these project housing tenants would have become middle-class people. They would have had $50,000 apartments for a dollar. Then they could stay, or sell. But they couldn't handle that whole idea. Again, I was shocked."
Bullard went to the tenants' public meetings. He heard them call his plan "pie in the sky." It sounded too good, they worried, what's the catch, what was in it for the developer? He merely told them he'd make a lot of money by owning 15% of the amusement area, plus the honor of having brought back Coney Island. Even Father Gillespie, asked not to judge the morality of gambling since the church had bingo, looked over Bullard's plans, then looked to the ceiling.
"I'm about to endorse gambling," the clergyman said, in approval. "God help me." But he never showed at the next meeting.
Many of the chief Coney Island landowners refused to sit on any corporation board of Bullard's, and they bickered between themselves over whose land was worth more. Hy
"ca-ca"
Singer and Nathan's wanted to be
paid
just to join the corporation, without giving anything. So Bullard walked away from his Plan A in 1981, upset to this day that Coney Island spurned "a once-in-a-lieftime opportunity." He would have taken the group to Albany to lobby, sign petitions, go on TV.
The local businessmen figured they were going to get gambling anyway, even without Horace Bullard. Bullard received a call three months later from the same folks who wouldn't join his plan. They needed him. A Black caucus was lobbying
against
gambling. "I had told them to go up with a plan where everyone benefits. Why should poor citizens vote for gambling—just so those landowners could get rich selling their property?" The gambling motion was tabled.
Bullard, at this point, figured to hell with the community, he'd do it all himself. When they saw how real his dream was, they'd come in. His Plan B involved building a carnival with two floating hotels on the old Steeplechase pier. He'd lobby the state for a five-year gambling test, for two competing hotels. If it was decided afterward that gambling was a detriment, he'd "cut the ropes to the hotels," and float them off. In the meanwhile, however, they would have sponsored rebuilding Coney Island to the tune of "a couple of hundred-million dollars."
But then some European investors approached, told him to forget about gambling, and offered to sponsor the amusement park. The city gave him the go ahead. Bullard acquired more property, designed a 17-and-1/2-acre park, abandoned the idea of a public corporation, or lobbying for gambling hotels. He pulled out the plans which he next showed the city:
"The city said, '
Forget it
, we made a bad deal, we never thought you were gonna build something this serious.' I had the investors, everything ready to go."
Another 18 months of lease re-negotiations with New York ensued. "It took me a long time to get the city into this nostalgic Coney Island feeling. Right now [in 1987], I think they're on board. We've finished negotiations. I gave them back land I paid a million for, I gave them more money, I was forced to agree with everything. Then I bought $2 million more land for parking. But the dilemma now is whether we wanna build a 17-and-1/2-acre park, or go to 30 acres. If we go larger, we'll be taking up space previously allocated for parking. Then we'd have to secure remote parking."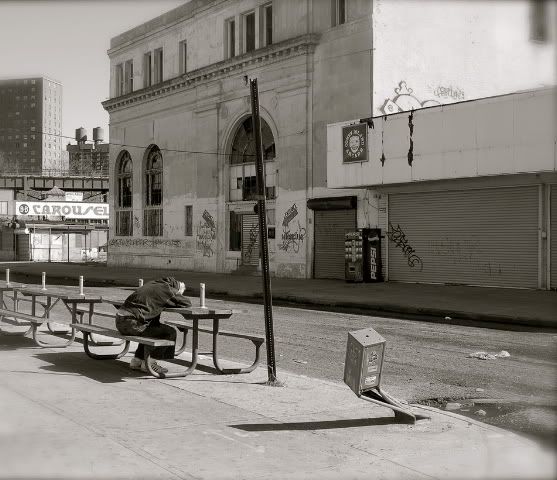 Continued next week...
© 1987, 2010, Josh Alan Friedman