Walter Wager
The last in my series on Magazine Management is a short 1984 interview with spy-thriller novelist Walter Wager (1924-2004). Wager's career took him from being a Fulbright Fellow at the Sorbonne in Paris to becoming diplomatic adviser to Israel's Director of Civil Aviation. He was also editor-in-chief of Broadway's
Playbill
in the '60s, and public relations director for ASCAP. Walter Wager wrote some 30 novels, a number of which became films, like
Die Hard 2
(from his
58 Minutes
) and
Telefon
. He sometimes wrote under the pseudonym John Tiger at Mag. Management.
Question:
What year did you join the club?
WAGER:
I never worked there, I was a writer for them and wrote about a hundred pieces. In 1952 I started doing research memos for other writers to use for articles in their little news magazine,
Focus
. Then the memos got good enough for them to run. It was the beginning of a brilliant career writing fake true adventure stories. Later on, when I was working with Bruce [Jay Friedman], a whole genre of stories developed in which Allied pilots or spies, in various parts of the world, were hidden by the underground in secret headquarters, which were always brothels, cathouses. Bruce said they were doing so well, let's do another. I said, "For God's sake, Bruce, we've done everything except an underwater cathouse."
He said, "I love it, do that."
Someone else ended up writing it: an underwater whorehouse which was used to train Italian scuba divers.
Q.
Was this in a submarine?
WAGER:
An underwater building. The Allies infiltrated the whorehouse and wiped out the scuba divers.
Q.
Your staple was the spy-espionage story?
WAGER:
Yes. I went to work at the United Nations as an editor for two years. When I came back in '56, I continued doing stuff for Magazine Management. I did some genteel sex stories, also. You found out what part of each city was the red light district, then you wrote a vigorously indignant article about the hookers. The first article I did for
Swank
in '56 was called "Build a Better Monster"—a picture story on Hollywood monsters which advised readers on how to get ahead in life by building one.
Swank
had a sense of humor. Then I did a piece of fiction for
Swank
which was later reprinted in an Australian magazine, so
Swank
was obviously being read around the world.
Q.
Did you get paid for the reprint?
WAGER:
I got a big $25 from the Australians. I would do an article every week for Bruce. I would bring it in on Thursday and have a check in my mailbox Saturday. The most attractive thing about
Swank
was the sort of freewheeling atmosphere there. But it was a time of very cautious wring about sex.
Swank
was the baby of all the men's magazines there.
Q.
How do you mean?
WAGER:
It never got as big as the others and it didn't live as long. [
Swank
ceased publication several times.
] It was always an experimental venture. Martin Goodman's effort to compete with Esquire, but a little saucier. It had the advantage of working on a modest budget, so it needed an inventive editor.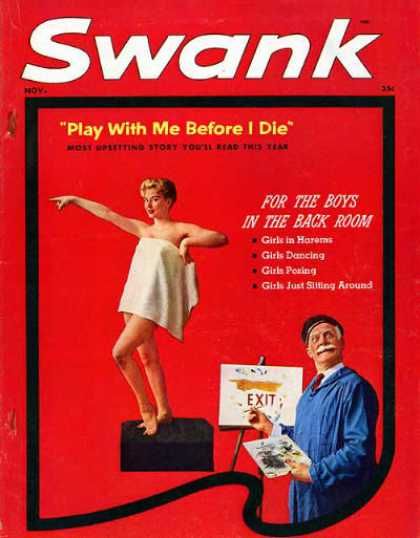 Q.
Do you recall a favorite story you wrote for
Swank
?

WAGER:
A piece of fiction that preceded
The Stepford Wives
. A story about an engineer whose wife dies, and he builds a new wife ["The Second Mrs. Gilbert," Aug. 1956]. Every night was perfect, he'd come home, she'd be waiting with martinis, she never bothered him to have a baby. Then he comes home one evening and can't find her. He goes down to the basement and there she is in his workshop building a perfect new husband.
Q.
Were any of your Mag Management stories developed later into novels?
WAGER:
Oh, yes! I did a double-length piece of fiction for
Men
which developed into the novel
Viper Three
, very successful here and abroad, and later became the film
Twilight's Last Gleaming
[
starring Burt Lancaster
]. You wanna hear something funny? Not only did it first appear in a Magazine Management book, but after the novel was successful and the paperback came out years later, Chip Goodman [
heir to Martin Goodman's empire
] didn't know it had come from an original story in his father's company—he bought the condensation rights again.
© 1984, 2010 Josh Alan Friedman