The only formal interview I ever did with my father was for the 30th Anniversary issue of
Swank
, in 1984. It also appeared in
It's a Man's World: Men's Adventure Magazines, the Postwar Pulps
(Feral House, 2003). Here is a full version for the first time.

Bruce Jay Friedman
Novels include
Stern
,
A Mother's Kisses
,
About Harry Towns
and
Violencia!
Plays and screenplays include
Scuba Duba
,
Steambath
,
Stir Crazy
and
Splash
.
BJF at Magazine Management, 1954
Question:
When did you begin at the company?
FRIEDMAN: I first joined Magazine Management in 1954, and worked for "Big Jim" Bryans, who was editor of Focus and Picture Life. It was a valuable experience because he was the best "title" guy, or packager.

Q. Do you recall any of his titles?

FRIEDMAN: "What's Worse Than Sex?" He'd send me back to sharpen up titles and blurbs, literally a hundred times, like a marine drill instructor. But when you become a marine, you're really proud of it. [Publisher] Martin Goodman was also a very good title man. They believed in Big Emotions selling magazines, and they were right. I began as assistant editor of Focus, a small-format magazine, a quarter the size of say, The New Yorker. It was a sensationalized version of a successful one that Look had introduced called Quick, which you could also stick in your pocket.


Q: Who dreamed up Swank?

FRIEDMAN: Swank was the original title, if I'm not mistaken, of Esquire. It was a company owned by Arnold Gingrich, who published famous writers in it. Martin Goodman loved that name.

Q: So he revived the name in 1954, based on a magazine of the '20s?

FRIEDMAN: In a sense.

Q: What's an approximate chronology of the Mag Management titles you edited?

FRIEDMAN: There was Swank in the '50s—it couldn't make up its mind what it was. Strokebooks were beginning to come in. The first one that went the distance, so to speak, and was seriously sexy, was Nugget. Swank petered out at the end of the '50s; Martin Goodman wasn't prepared to make it sexy. It was put on ice for a while. He didn't want to be associated with the kind of magazines which led to the real strokers.

So he said, "I'm throwing you another magazine," which was Male, one of his banner publications. And then he threw me another, which was Men, and then he threw me Man's World and then True Action.

Q: Was there a distinction between Male, Men and Man's World?

FRIEDMAN: It's like today—when I write a hero, he's never as good as the sidekick. I had four magazines at once. Male was supposed to be the mainline publication. I would try to put my "best stuff" into Male, so Men became the sidekick. As a result, somehow, Men would have the real stuff. To make a quick reference to Splash, the John Candy role had to be better, because the pressure was off. To spin that out further, True Action, which was supposed to be the junkyard—after all, you're doing four titles, you gotta come up with 40 adventure stories a month—True Action, the ashcan one, was a sly favorite of mine. Because there was no pressure. The heat was on when it came to Male magazine, 'cause it had a record of good sales.
Q. Mario Puzo said he only wrote for Male and Men.

FRIEDMAN: He was one of our big guns, we would never put him into True Action. Imagine trying to get 40 stories, and I had to believe in each one. There was just a small group of guys.

Q: I heard you kept about 50 writers out there swimming in assignments.

FRIEDMAN: It's an inflated number, because they kept me working. I never did any favors. The only thing I did that was of any value, which made me seem heroic, is that once every couple of weeks, I would go into Martin Goodman and say you really gotta pay these guys. He really didn't like to sign checks. The checks weren't for me, but it's as if they were. So he'd piss and moan and finally do me a favor—do me a favor, by signing these checks.

Q. You always said that's 80 percent of being a good editor.

FRIEDMAN: Getting the guys the money.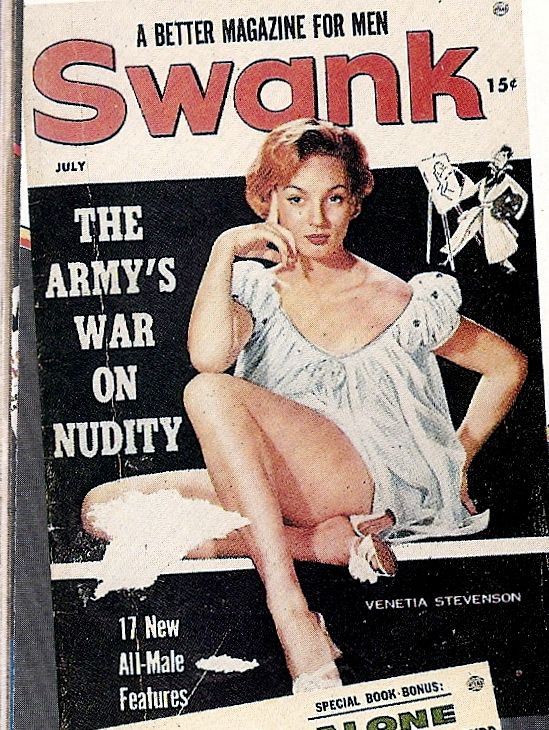 Q.
Let's return to your earlier days at
Swank
.
FRIEDMAN:
It was the first one in which I was given full charge of a magazine. I had a secretary and one employee named Philip Cooke. It was an important experience for me, and also a frustrating one. I was given the editorship of this new title in 1954 and told to compete with
Esquire
. So I went ahead and got a Graham Greene story and a William Saroyan story, plus a few items which we then called "risqué." I prepared the first issue, and saw that they very first page had a giant truss ad. So I stormed into Goodman and said, "I thought we were competing with
Esquire
?—this sets the tone in the wrong way." The advertising guys were summoned and they fought me tooth and nail to keep the truss ad, because they'd lose revenue. The truss people always paid. So I put my job on the line and said the truss ad goes or I go.
Q.
You mean I would have been a skinnier kid of the truss ad stayed?
FRIEDMAN:
Yes, you were involved, so it was a daring thing. The compromise struck was that we'd run an electronics school ad in the front. But gradually they worked the truss ads back in.
Q.
You never did tune
Swank
to your liking?
FRIEDMAN:
Well, this was about the time
Playboy
had been introduced. But Martin Goodman marched in with
Nugget
, which had the first real tits and ass, along with ribald classics. He threw the copy of
Nugget
down on my desk and smacked it, saying, "This is what I mean." So I asked, "Where's
Esquire
?" And he said, "This is what we're really trying to achieve." I said, "Well I don't see any truss ads in this book. Every page has color, and you have nips in here." It was an impossible situation. I kept publishing
Swank
as some weird bastardization of
Male
and
Esquire
. It was some weird hybrid of classiness and adventure, and I wasn't ever comfortable with it.
Q.
How about the girls? There was a monthly feature called "
Swank
Dines Out With." Sophia Loren, Jayne Mansfield, Anita Ekberg. Was that for real?
FRIEDMAN:
Well, I dined out with them.
Q.
You really dined out with them?!
FRIEDMAN:
Well, not each one. But I did dine out with Jayne Mansfield, Cleo Moore, Tina Louise, I actually dined out with a half dozen. Others that
Swank
dined out with were pieces written for us by a Hollywood reporter, like Brigitte Bardot, which I kind of sharpened up.
Q.
Didn't that help the job along?
FRIEDMAN:
Oh, yeah.
Q.
Who was the most striking one?
FRIEDMAN:
I still feel the impact of seeing Tina Louise when she was 18. She was one of the most astonishing looking people I've ever seen.
Q.
Do you remember where you dined with her?
FRIEDMAN:
Well, I don't know if I actually dined—I know she came up to the office. It wasn't always a question of
dining
out in a restaurant, I saw them in different places.
Q.
Then it wasn't actually over candlelight and champagne, like the logo cartoon?
FRIEDMAN:
Maybe once. Although when I was dining out with Jayne Mansfield, a pilot came in during the interview and started to roll around with her, but she never missed a beat.
Q.
These days, editors often preside over porn photo shoots for their magazines. Did the editors of Mag Management ever do that with girlie shoots?
FRIEDMAN:
I never did; or maybe once, to come up with an early cover of
Swank
. Mel Blum was the art director, and I showed up at one shoot. One where the girls are on safari, and he was giving them little pinches and winking at me. It was a little hot, actually.
Q.
You bought a lot of shoots from Russ Meyer?
FRIEDMAN:
Well, you call them shoots, we called them sets. There would be a picture agent, usually a Viennese guy, who would come up with a briefcase full of "sets." They were contact pictures of an individual girl, shot by one of his photographers. You'd circle the contacts you wanted; he would then blow them up, and you'd bring them in to Martin Goodman who would pick the final selection. He spent a lot of time laboriously eliminating nipples, or outer aureoles with a red pencil. There were conflicts, because he would have certain fetishistic inclinations different from mine. I thought his taste was really coarse, and I'm sure he felt the same about mine. He always prevailed since he was the publisher.
Q.
Do you recall any reader mail from the '50s concerning girls?
FRIEDMAN:
Well, during the early
Picture Life
, a fella wrote a letter saying he only had a short time to live. He said if we could possibly run a photo of Mitzi Gaynor wearing one glove, while in her panties and waving, he might be able to squeeze out a few extra weeks.
Q.
Were you able to track down such a picture?
FRIEDMAN:
Well, we had no direct pipeline to Mitzi Gaynor. Ole Mitz. But we picked something out.
Q.
You did a lot of freelance columns for Mag Management books, to help keep me in toys, which I'd like to thank you for. Were these, perhaps, the first rumblings of
Lonely Guy
advice? Items about hubcaps, spotting joydolls, car tips.
FRIEDMAN:
Just like
The Lonely Guy
stuff, they always had to have some seedbed of reality. It doesn't work when it's all style, or there's nothing behind it, nothing to tilt or make askew—there must be a bit of truth. They always did research at Magazine Management on what people were reading, what rated well. The columns were proven successes. There was yet another division there of adventure mags, with different editors. I remember one of those fellas handing Martin Goodman his version of
Stag Confidential
, with another title, and it was very jazzy and razmatazz, Shuffle off to Buffalo, it had all the expressions. But Goodman dismissed it with a smack, losing his temper. The guy had copied the outer shell, but it didn't have a heartbeat. He was copying the moves, but he didn't realize that it came essentially from some kernel of information or insight. I was very proud of those columns—even though I did them till I was blue in the face.

Q.
What was a typical Magazine Management breakfast?
FRIEDMAN:
You mean, what'd we eat up there? There was a counter downstairs called Boyd's Chemist, at 655 Madison, and there was a terrific counterman named Eddie, a jolly Richard Pryor-type fella who was trying to break into television. They had fresh orange juice, a great bagel and coffee.
Q.
How did you pick the cartoons?
FRIEDMAN:
They came in two different ways. There were a few cartoon agents, a guy named Art Paul, an old Broadway character who stuttered, and he would come up stuttering with a pile of cartoons. He was like [Broadway composer] Jule Styne, the least likely guy to have great cartoons, but he had great ones. Then we had a Cartoon Day, where individual cartoonists would come up, and I would see them and make selections on the spot. Some of these guys were distinguished cartoonists. On the back of each cartoon was a coded box where you could see crosses—sometimes there were eight crosses. I would know I was the ninth person they were seeing, so a less secure man would have been offended. But I like to think my judgment was better than the first eight guys who passed. It was a simple matter of
The New Yorker
paying the most, so Herb Goldberg would want to publish his stuff there first. I would sit and chat with these guys, many of who were exceptional men who did brilliant work. We used a lot of cartoons.
But earlier,
Swank
had a different approach, since it was "classier." The
Swank
cartoons were picked more for their appearance than wit, to go opposite the truss ads. Guys who could do sexy broads had an edge. Then there were cartoons that came in through the mail. I was careful to pick my own cartoons, I was very proud of that, something I jealously guarded. The highest honor I ever conferred on anybody was when I trusted Mario [Puzo] to pick out cartoons. I think his eyes would moisten if he remembered—it really was a matter of conferring supreme trust in somebody to let them choose your cartoons.
Original Mad Men: BJF on Madison Ave., outside Mag Management, 1950s
© 2003, 2010 Josh Alan Friedman