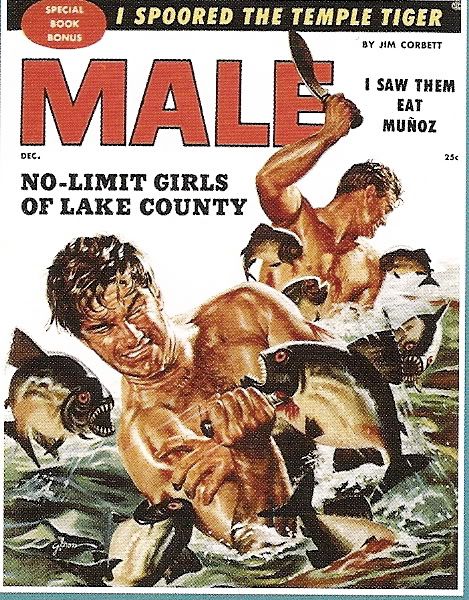 I was a contributor for two different coffee-table art books on the history of men's adventure/girlie magazines. Below is my chapter from the Taschen
History of Men's Magazines
series, edited by the great Dian Hanson in 2005. But Taschen ran my chapter accompanied by dozens of cover illustrations that had nothing to do with the magazines from Magazine Management, of which I wrote. (Taschen ran sado-maso and Nazi covers, that would have offended the World War II-veteran writers and editors from Magazine Management). The editing was also botched, changing my meaning and intent. But what follows is my original piece, the first of several on the subject we will post on this blog.

I received my initiation to men's magazines in the late 1950s when I was about three years old. My mother often escorted me into Manhattan via the Long Island Railroad, which I believed swam underwater as it tunneled below the East River toward Penn Station. Our destination: 655 Madison Avenue, the offices of Magazine Management. Cigar-smoking gents with rolled up sleeves and loosened ties were hunkered down within a maze of cubicles, banging away at Corona typewriters. Their individual fox holes, stacked with clippings and photos and illustrations, were barely partitioned by office dividers. An assembly line of painters and letterers applied dainty brushstrokes to canvass, creating the very action-adventure covers you see here. It was a factory training ground for writers of the World War II generation—my father included.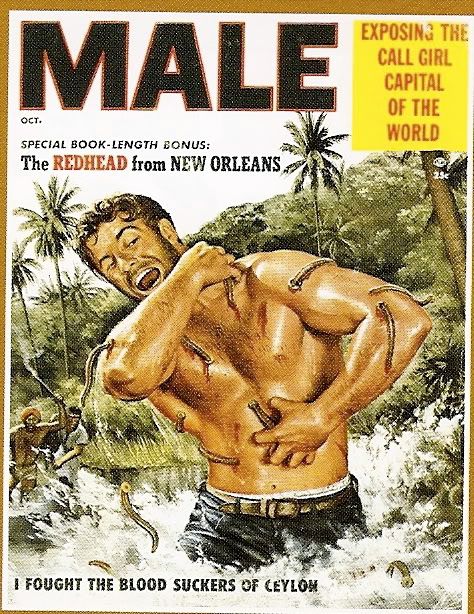 Bruce Jay Friedman resided as staff sergeant of his own bunker behind a Royal manual. He was surrounded by even bigger stacks of glossy war photos, corkboards dripping with memos, news clippings and stuffed file cabinets. A 1950s cover of
U.S. News and World Report
framed on his desk, asked, "If Bombs Do Fall, What Happens to Your Investments?" For most of his 12 years at Magazine Management, my father edited four now-forgotten titles—
Male
,
Men
,
Man's World
and
True Action
. Assigning 40 stories a month, his crack editorial team included Mario Puzo, John Bowers, Mel Shestack, George Fox, Jules Seigel, Walter Wager. A rival team, in another section, was headed by Noah Sarlat, whose flagship title was
Stag
.
Male
and
Stag
ran neck in neck with monthly sales over a million each. This was magazine heaven. Gloria Steinem did a feature story on the company in the early 60s, focusing on this hard-typing fraternity of novelists and screenwriters, epitomized by Mickey Spillane, who held a desk there in the '50s. They knocked out millions of words a month.
My dad never spoke about the magazines outside the office, and practically never brought any home. The Magazine Management "books," as they ironically referred to them, were a low rung of publishing, devoid of any prestige. Though he sort of loved it there, it was a job, very much subordinate to being a novelist.
Under the umbrella of Magazine Management, hundreds of publications came and went: men's adventure, semi-sophisticated cheesecakers, movie fanzines, Western adventures. A one-man operation resided in the corner called Marvel Comics. That one man was Stan Lee. The shelves in the storeroom bristled with new entries each time I visited.
Spider-Man
and
Fantastic Four
were beyond my comprehension, but I grabbed first editions of them hot off the press. They were later discarded to friends—who made a fortune selling them.
This empire was ruled by Martin Goodman, who resembled Hopalong Cassidy in a fedora hat. Saluted by one and all as Mister Goodman, supposedly since childhood, he was the consummate newsstand tactician. He began in the 1930s, with pulp titles like
Star Detective
,
Mystery Tales
,
Uncanny Stories
,
Ka-Zar
,
Marvel Science Stories
. Some credit Goodman with having created the entire men's adventure genre; others say he merely issued second-rate imitations of successful magazines.
Swank
, for instance, was introduced in 1954, right after
Playboy
and
Nugget
came about. "I was told to compete with
Esquire
," said Bruce Jay. "So I went ahead and got a Graham Greene story and a William Saroyan story, plus a few items which we then called 'risque.' I prepared the first issue, and saw that the very first page had a giant truss ad. So I stormed into Goodman and said, 'I thought we were competing with
Esquire
? This sets the tone in the wrong way.' The advertising guys were summoned in and they fought me tooth and nail to keep the truss ad, because they'd lose revenue."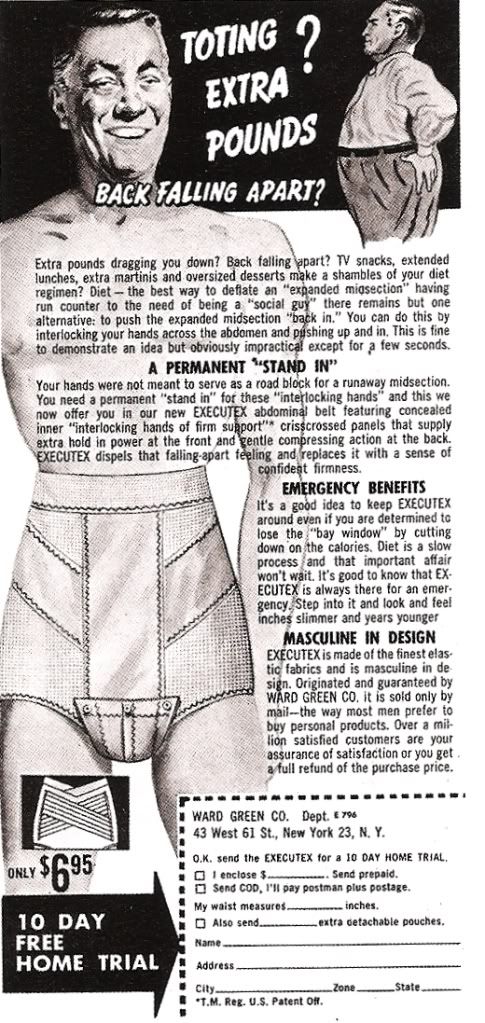 Full-page automotive, truss and baldness ads helped keep
Swank
at the bottom of the newstand, below
Argosy
,
Collier's
or
Popular Mechanics
. Never sure whether it was an adventure, literary or girlie book,
Swank
survived through different ownerships after Magazine Management ceased operation as such in 1975. Martin Goodman's son Charles, who interned at Magazine Management in the '60s, acquired
Swank
and
Stag
in the 1980s, where they remained "impulse buys" (after a wanker had purchased his monthly copy of
Playboy
,
Penthouse
or
Hustler
, and came back for more). Charles "Chip" Goodman developed his own empire of strokers, spinning off women's exercise and swimsuit 'zines. An amiable chap, he also specialized in low-risk imitations of whatever else was successful on the stands. When Charles passed away in middle age, the
Swank
-
Stag
stable fell, seemingly by default, into ownership of the printer. They are the last two surviving men's mag titles with direct lineage to Magazine Management.
Millions of blue collar men made up the adventure market in the 20 years after WW II. This generation had an insatiable appetite for the Good War—with cheesecake photos salted in. Once Magazine Management exhausted coverage of every known WW II battle, they began to invent new ones. A counter attack on roller skates against a giant tank armada, or Allied pilots launching attacks from whorehouse bases. Most of the reader mail arrived from vets correcting details about the battles that never existed.
Mario Puzo, a WW II soldier himself, wrote at least three huge "book bonus" stories a month for
Male
and
Men
. "It was absolutely the best training a writer could get," he told me. "The funny thing is, I don't think I ever wrote anything about gangsters. World War II was a bonanza. But Korea and Vietnam were losers."
Though Puzo wrote several stories about Vietnam, he said, "They were absolute poison. Readers hated it. Also, we weren't the heroes. Just like the Korean War. We used to call that The No Fun War. World War II was The Fun War. And you could get some mileage out of the Civil War and World War I."
"It was like Kabuki theater," explained novelist John Bowers, the point man for "hotsie-totsy" stories about vice raids and joy dolls. Bowers arrived in New York after a puritanical Tennessee upbringing. "You followed a certain ritual. Women were vehicles for pleasure, they weren't full-rounded characters. They were always ready, gripping, sexed-up."
Every writer on staff learned to keep the action moving, cut copy, cut adjectives, never overwrite. "Give them Big Emotions," intoned "Big Jim" Bryans, an early editor there. Coverlines like "100 Times a Murderer," "The Night 80 Call Girls Took Over Sing Sing," and "Use the Whole Damn Fleet, But Save Ensign Thompson!"
In the sex department, Martin Goodman restricted the staff to phrases like "dark triangle" and "heaving chest." Art director Mel Blum spent hours meticulously airbrushing out aureoles or stray pubic hairs from girlie photos—only to spend the latter years of his career brushing them back in.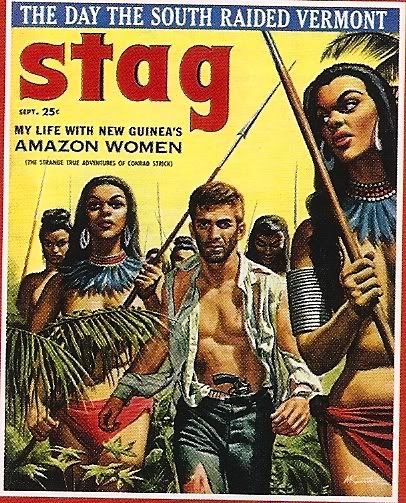 How did the men's adventure market slowly mutate into pornography, and nothing but? Here are two factors: The world of the pulps died. Vietnam did not promote adventure, like earlier wars.
During the '50s and '60s, there was never an admission that any magazine endorsed masturbation. Their use for abuse in bus terminal toilet stalls was a shameful solitary secret. Even
Playboy
readers figured they were lone perverts when they went to work over the centerfold. The stories always provided cover. Literary pomp and circumstance aside, take the girls out of
Playboy
and circulation would drop to 14 readers.
It may have been implied in mags such as
Titter
or
Wink
that an erection might be in order. But girlie mags never proclaimed themselves strokebooks until around 1980. As men's magazines slid ever crotchward, magazine covers screamed out More-Masturbation-for-Your-Buck, demanding you rip off your pants and get started before you reached the table of contents. In an about-face, by today's standards, a reader certainly would be more embarrassed caught reading the gibberish copy than stroking off to the pictures. And so, as passage of time highlights fond American pastimes, yesterday's pulp becomes today's art.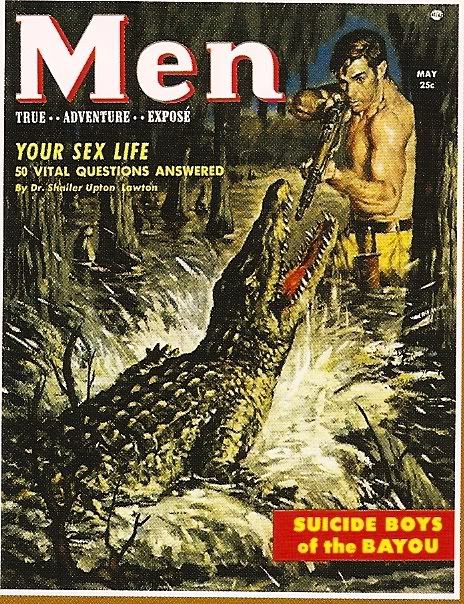 © 2010 Josh Alan Friedman